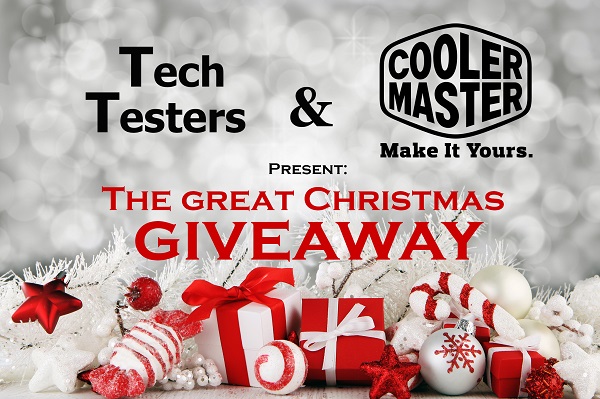 In samenwerking met Cooler Master mogen wij deze kerst maar liefst drie mensen gelukkig maken met gloednieuwe gaming randapparatuur!
De grote winnaar ontvangt een CM Storm Quick Fire XTi mechanisch toetsenbord, een CM Storm Sentinel III muis, en een CM Storm Swift RX muismat. Mocht je naast de hoofdprijs grijpen maak je alsnog kans op maar liefst twee CM Storm Octane muis & keyboard sets, wederom aangevuld met een mooie Swift RX muismat!
Hoe maak je kans? Eenvoudig: Vul je gegevens in in dit formulier en je doet mee voor de prijzen. Niets meer, niets minder.
Maar er is meer! Omdat Kerstmis een mooie tijd is om cadeautjes aan elkaar te geven kan je ook een vriend(in) nomineren, jullie maken dan beide kans op een prijzenpakket. Uiteraard mag je jouw vrienden ook vragen jou weer te nomineren, zo groeit je kans op een prijs met elke vriend die meedoet!
Hoewel het niet is vereist doe je ons uiteraard een plezier door een beetje liefde richting onze Facebook pagina, en de Facebook pagina van Cooler Master Benelux te sturen. Zonder Cooler Master Benelux was deze actie niet mogelijk geweest, en jullie steun zorgt dat wij in de toekomst weer meer leuke acties kunnen opzetten!
https://www.facebook.com/techtesters.eu/
https://www.facebook.com/CMBenelux/
Ik wens jullie veel success met de giveaway! Oh, en vergeet vooral niet nog even door te lezen, want we maken het nog leuker…
Stephan Overbeeke
Editor-in-Chief, TechTesters.
———————————————–
In cooperation with Cooler Master we're giving away not one, but three sets of CM Storm gaming peripherals this Christmas!
The grand winner will receive a CM Storm Quick Fire XTi mechanical gaming keyboard, a CM Storm Sentinel III mouse, and a CM Storm Swift RX mousepad. If you don't win the grand prize don't fret, there is also two runners-up prizes: two CM Storm Octane mouse and keyboard sets together with a Swift RX mousepad.
Taking part is easy: Just fill in your details in this form here. Nothing more.
Because Christmas is a time for presents, we're also giving you a chance to nominate a friend to win one of the prizes. And of course you can ask your friends to nominate you, increasing your own chances to win with every sign up! There is no limit in how many friends can nominate you.
Even though it isn't required we always do appreciate some love for our Facebook page as well as the Cooler Master Benelux Facebook page. Without our Cooler Master Benelux friends this giveaway would not be possible, and your support allows us to do more in the future!
https://www.facebook.com/techtesters.eu/
https://www.facebook.com/CMBenelux/
Good luck and happy holidays!
Stephan Overbeeke
Editor-in-Chief, TechTesters.eu