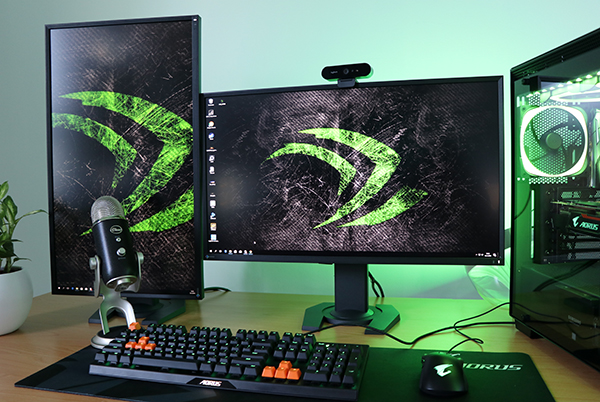 Let's Stream! Part 7: Streaming Microphones (EN)

This content is also available in Dutch, click here to switch

In previous parts of our 'let's stream' series we talked about building our two kick-ass Nvidia GeForce / AORUS streaming systems, we took a look at Nvidia Shadowplay and OBS as streaming software before having some fun streaming ourselves.
One of the most vital parts of providing a pleasant viewing experience is making sure you have a decent recording quality. Even if you're gaming on an old potato and your connection is held together by carrie pigeons and a good dose of "please don't crash today" you can drop resolution and video quality without too much consequence, as long as your voice doesn't sound like you're floating around in a submarine.
So we grabbed five popular desktop microphones to find out which one you should buy.
Headset or separate mic?

Before we get to our desktop microphones, let's briefly talk about gaming headsets. I dare say we have seen and the majority of them, but even the gaming headsets with the best microphones aren't what you want if you want to take streaming seriously. Even the better sounding gaming headset microphones that sound great when you're talking to your buddies on Discord just don't cut it for a serious stream. If you have a bit of cash to spare, buying any of the five mics we're looking at today is going to be a huge upgrade.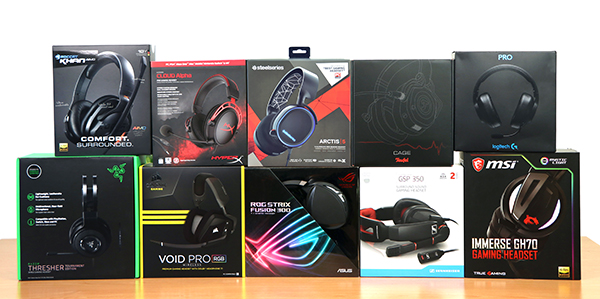 If you don't have budget for a separate mic? In our recent 10-headset roundup between 99 and 149 euros (the models you see above) three headsets stood out with a best-in-class microphones: Kingston's HyperX Cloud Alpha, Logitech's G Pro, and Steelseries' Arctis 5. (Closely followed by the Roccat Khan Aimo, Teufel Cage and Sennheiser GSP350). We say none are ewLLT ideal for streaming, but sometimes you have to make do.
Good, better, best, best

The cheapest in our desktop mic line-up is the roughly 80 EUR/USD Blue Microphones Snowball. Blue also has the honours of being the most expensive one in the test with the Yeti Pro, usually found somewhere between 200-300 EUR/USD. In between we have the Razer Seiren X at roughly 109 EUR/USD, the Rode NT-USB at about 140-150EUR/USD, and the Asus ROG Magnus which will cost you somewhere betwee 180 and 200 EUR/USD.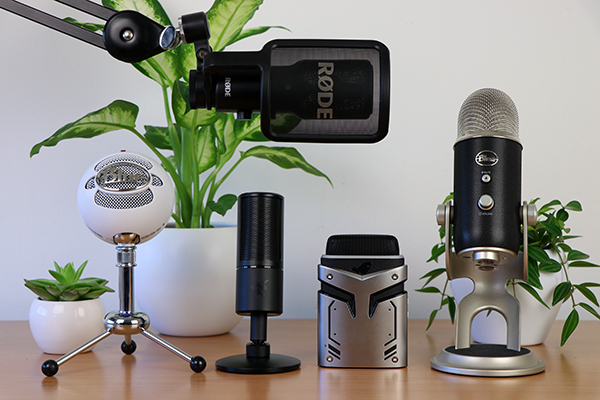 All these mics are suitable for less experience streamers as you simply plug them into a USB port and use them instantly within software like Shadowplay and OBS. You might have to tune the input volume in Windows depending on the distance to your face, but that's it, no actual effort or knowledge required.
As far as sound quality goes? After testing with both a male and female voice in different environments we came to pretty straight forward conclusions: between the two cheapest models, the Snowball and the Seiren X, the Snowball just sounds a tad crisper and more detailed and does natural noise suppression slightly better. The Snowball proved itself solid budget mic for starting streamers as well as some basic voice-over work, think YouTube.
It's the Rode NT-USB however where things get really interesting. At 140-150 EUR/USD it's a fair bit more expensive, but the recording quality of this mic is simply fantastic, a big step up from the cheaper two. It's a bit on the warm side of neutral, which might not be perfect for pro grade musical recording, but it does great at voice presentation. If you have the budget for this one over the Snowball or Seiren X: grab it, it's hard to argue with the recording quality.
It's this NT-USB that puts serious pressure on the Magnus and the Yeti Pro. Especially the Magnus which is more expensive and has a ton of features going for it, but it can't beat the NT-USB in pure voice quality and we believe that should be the first, second and third thing on your list of priorities. It is really cool if you have a whole Asus Aura Sync setup going on to take the RGB action on the Magnus, and it's not as if it isn't a very good microphone, but it's a harder choice to objectively defend.
As for the Yeti Pro, it does have the most natural sound recording of the bunch, but if we're looking from a streamer perspective only, the added value of some of it's qualities like the slightly higher detail level is just too little to justify the much higher price of that model; you're paying mostly for extra features there.
Features

Let's not instantly disqualify the Razer, Asus, and Blue Yeti Pro however, because when we start looking at features we see some huge differences between the five, even if we put recording quality as the main priority.
For example the Razer Seiren X is much smaller than it's slightly better budget counterpart (Snowball), and has the option to monitor your audio lag-free through the included 3,5mm audio jack. Not something the casual streamer might care that much about instantly, but it is something to consider. The Rode NT-USB offers the same monitoring feature however as the Razer, and a significantly better recording quality while the price gap isn't that huge, so the NT-USB retains our recommendation for mid-range option over the Seiren X.
If you expect to do other type of recordings than streaming or voice-overs, it's good to keep in mind the Snowball, Magnus and Yeti Pro offer other recording patterns beyond the standard Cardioid pattern which streamers use (which is included in all five). Nothing for streamers to worry about, but it might push your choice in a different direction if you want to do more with your microphone.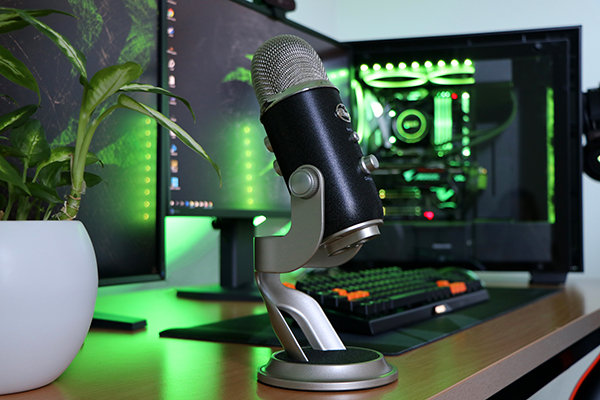 If your aspirations are to go beyond simply gaming and talking to your audience, we do need to bring up the expensive yet fancy Blue Yeti Pro again. It's the only option that offers an XLR out which allows you to connect it to professional audio hardware. Again not something a casual streamer will care about right away, but if you expect to go Pro with all bells and whistles for your audio than this is a mic that has all the capabilities to grow with you.
We have to point out that our two audio-for-the-money favorites, the Snowball and NT-USB, both lack a mute button on the mic. It's a feature we very much enjoyed having when streaming ourselves, and wonder why this isn't a universal feature. We can't weigh it too heavily however, as you can easily implement a mic mute function as a keyboard shortcut or a mouse bind. Something we'd recommend doing.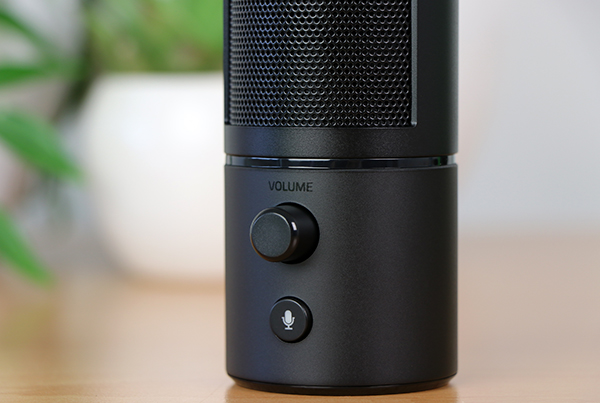 Conclusion

We end up with the Blue Snowball as a decent, reasonable starter microphone that has the recording quality to get you up into the pro league. It's the Rode NT-USB however that remains our personal favorite (we bought it ages ago for a reason), the recording quality of this thing is fantastic. Costs a bit more, but it's detailed, slightly warm voice recording is a big step up from the cheaper two both for male and female voices. The Snowball leaves you wanting a bit more, the NT-USB doesn't.
The other three have their strengths, whether it's a better form factor, different recording patterns, audio monitoring, RGB syncing, or the Yeti Pro's XLR option (and wonderful sound mind you, just expensive to buy just for streamer voice recording), but as blind recommendations we're sticking to the other two.
Where to go from there? We'd strongly recommend grabbing an adjustable arm to mount your microphone on, positioning your microphone properly in front of you makes a huge difference both for recording quality and supression of other noises. Especially if you're gaming on a mechanical keyboard we strongly recommend getting rid of the desk stand option asap, and all five can be easily arm mounted. We're using the roughly 70 EUR/USD costing Rode PSA1 model, but we've spotted plenty of cheaper options on Amazon. A shock mount is a great idea if the arm mounted to the table you're gaming on, but can be saved on if you are able to mount it on something else. Also a pop filter is a great idea as a next step after you got your new mic set up (The NT-USB actually comes with one, adding to it's strengths).
Before you know it you might have spent a small fortune on a fantastic audio setup to meet your needs, but we don't think that's something you'll regret. Again we need to stress the importance of good audio. The bottom line however remains that for around 80 EUR/USD you can already find plenty of capable mics that will help you grow your stream to serious levels before you need to really start worrying about what's next.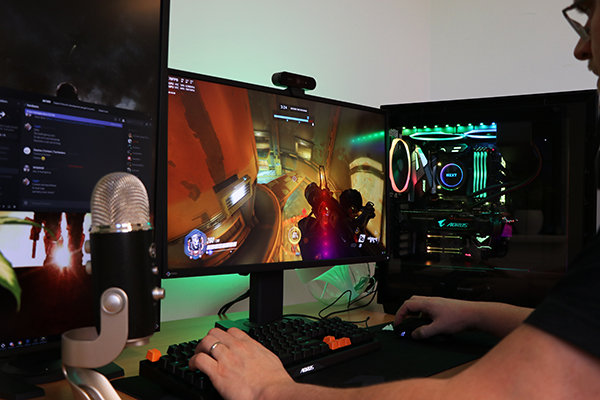 Overview of all "Let's Stream" articles:
Part 1: Introduction
Part 2: Building a mid-range Game PC
Part 3: Building a high-end Game PC
Part 4: Let's Game: Performance baseline for streaming
Part 5: Recording and streaming with Nvidia Shadowplay
Part 6: Recording and streaming with OBS
Part 7: Streaming Microphones